Do students enjoy learning times tables?
You're kidding, right?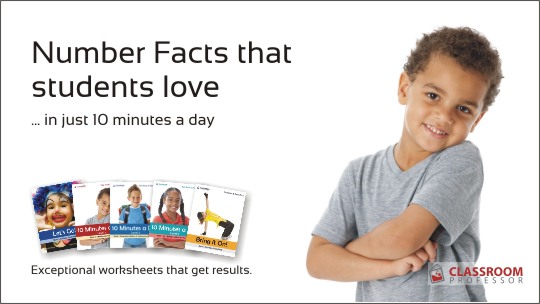 If you remember learning times tables by reciting them over and over and over, you are probably skeptical that students could actually enjoy the exercise.
But if you provide students the strategies they need to make sense of the numbers, they do in fact enjoy it. And what really motivates them is to be able to improve on their times day by day.
Developing Number Fluency worksheets eBook series
Aligned to curriculum documents for students in US, UK and Australia
Strategy-based approach so students develop understanding as they memorize facts
Daily worksheets, including fortnightly assessment sheets
Comprehensive system to teach every fact for every operation, in 10 minutes a day
Integrated homework sheets so parents can support classroom teaching
Duplication license allows for unlimited copying by the original purchaser: no more to pay
30-day money-back guarantee, no questions asked
Year-level bundles for enough worksheets for entire year cost less than US$70
Sample worksheets to try at home or in class:

The "Developing Number Fluency" eBooks Series
Click the link to download a sample from the series:
More information:
Visit the Professor Pete's Store site.