It's Agreed: Teachers Should Teach Environmental Responsibility
Teachers around the world are expected to teacher their students to be responsible citizens, to reduce their impact on the environment and to support sustainability. For one example, see the new Australian Curriculum's Cross-Curriculum Priority: Sustainability.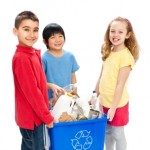 Great, good stuff. In fact, it would be difficult to imagine a teacher anywhere who did not believe in protecting the environment for future generations, and teaching today's students to be responsible adults in the future.
But does mean that we should agree to promote every green cause or environmental suggestion, "just because". Some ideas are really dumb, including those with a green label applied. How can we tell them apart? Do we just let others decide for us, or do we think for ourselves? I reckon we should use math to check out the facts – and teach our students to do the same.
Will Wind Farms Fix the Energy Crisis?
A lot of environmental activists and politicians are currently promoting wind energy as the solution to global warming and the world's reliance on dirty fossil-fuel-generated energy. Are they correct?
The answers aren't all in yet, but it is important to do some basic research, rather than just believing the promoters. There are some great sites out there with lots of information on outputs, days of output, daily averages, hourly averages, etc., which give a much better idea of what is actually happening.
Will wind energy on its own replace other forms of electricity generation?
Other considerations for developing an informed basis for developing an opinion could be factors that are unique to wind farming. Such as:
This is the final podcast episode that was recorded on our trip in Europe. Future episodes will be videoed in the classroom.

Podcast Location:

South Lanarkshire wind farm. You'll notice that the Google maps photo doesn't show the wind turbines; the photo must have been taken before they were constructed. If you check the Street View, you will see them.
View Lochhead (Wind) Farm, South Lanarkshire in a larger map
So Where's the Math?
Teaching about environmental issues is a great opportunity to promote socially responsible outcomes in your students' lives. It is also a wonderful opportunity to put those mathematics skills to really practical use. Environmental projects always produce controversy, because they always involve costs to someone or other, along with the benefits. In order to reach sensible, informed conclusions, we should return to the data, and ask "What are the facts?". Your students are ready to answer questions of concern to them, that are matched to their level of maturity. Use math to help them decide!
With your class you could do some activities such as actually planning a family's daily needs based on the output from turbines on different days. How is industry affected? What is the daily consumption, or even the hourly consumption of power of a city? Are its needs steady or fluctuating? How does this affect the power industry? With these ideas it would be possible to follow through on an idea and make a great math project where the application of math is almost limitless.
The Wind Farm Performance site has lots of real-time stats and graphs on Wind Farms: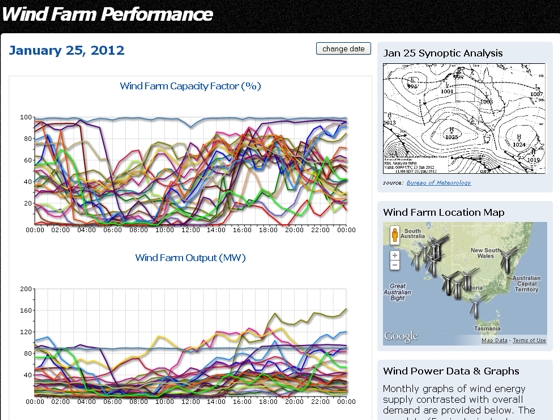 What do you teach in environmental studies that could use some reality in the form of data? I'd love to hear your ideas – please leave a comment below.
Related Videos
Explanation of the components of a wind turbine:
Turning the Weather Into Power (article + Flash animation) – click image for link:
Danish wind turbine fails in storm:
Wind energy in west Texas, Wind Turbines:
Wind Farms in the Media This Week:
Photo Credit
Children Recycling: © iStockphoto.com/Randy Plett