How well do your students cope with numbers? I mean, can they picture them? Do they visualise number combinations and number facts in their minds with ease? Or do they count on their fingers?
Two Classrooms. Two Stories. One Day.
I have been struck today by two contrasting stories of children working out addition facts. One I observed when I visited a Grade 5 classroom, the other was shared by Aviva Dunsiger via Twitter (@Grade1), relating what her Grade 1 student did the other day.
The contrast between the behaviour of these two children is so striking, and says so much about how the two children were coping with math, I couldn't resist sharing.
Grade 5: Finger Counting
I was visiting a Grade 5 classroom today, and saw a lesson on calculating area. The teacher had three really cool activities for the kids to engage with the idea of area, and working out ways to calculate it using 1-cm base ten blocks, the formula for area of a rectangle, and a transparent 1×1-cm grid.
What I saw when I looked closer at the children's working was that they couldn't calculate areas simply because, in the main, they couldn't recall simple addition number facts (let alone multiplication facts). A child wanting to know "8+4" in the middle of a multiplication algorithm counted on her fingers. In fact, as I looked around the room for a moment, I saw several children all counting on their fingers.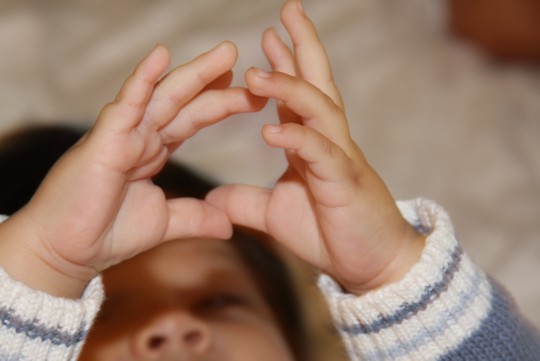 It was clear that these students had learned at some earlier time that finger counting was a legitimate method for working out unknown number facts. It seems likely that this happened a few years ago, since children would normally be learning these addition facts in around Grade 1 or 2. So for at least 3 years, it would appear that the students have been relying on their finger counting for finding out the answers to addition questions.
What do you think? Am I getting old and out of touch to expect that 10-year olds could recall addition and multiplication facts mentally, instantly?
Grade 1: My Teacher Loves Math. I Can Picture Addition in My Head.
Contrast the above with Aviva Dunsiger's student's picture, which Aviva shared a few days ago (and which I noticed today):
It's posts like this that just make you happy to be a teacher: missd.commons.hwdsb.on.ca/2012/05/11/sch… Happy Friday everyone!
At first glance it is a fairly typical childish drawing of a teacher and a student, drawn by a girl who loves her teacher.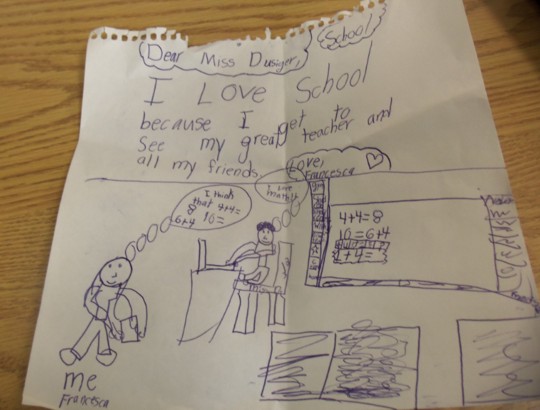 Aviva Dunsiger
Look closer, and you can see that Ms Dunsiger has written some math on the board, and the child is thinking of that math in her head. In fact, the words the child put to these thoughts were "I think that 4+4 = 8 / 10 = 6+4". The other nice touch is Ms Dunsiger's own thought bubble, which contains the thought "I love math!"
Isn't that cute? And what a confirmation of the positive attitude toward math that Aviva is sharing with her students.
But what really thrills me about the picture is the indication it gives that the child is truly able to visualise the addition facts she is learning, and can "see" them in her mind. Am I imagining too much? That's what I see in the drawing.
Should Children Recall Number Facts?
I think the answer to this question is obvious. On one hand, Grade 5 students in the class I visited relied on finger counting in order to complete a multiplication algorithm, in order to work out the area of a rectangle. Along the way they made so many mistakes that I seriously doubt they understood much at all of what they were learning about area.
On the other hand, a Grade 1 student is able to recall simple addition facts, and moreover by choice draws a picture to express her enjoyment of math, like her teacher. We can hope that she continues to be inspired to love mathematics as she grows older, and that in 4 years she is able to calculate area easily and quickly, using her knowledge of number facts.
How would your students fare in this comparison?
Image credit:
Finger counting by ckmck – CC license at Flickr
School & Miss D – Francesca, via Aviva Dunsiger